21 May 2015
SANEC attended PLMA's annual "World of Private Label" International Trade Show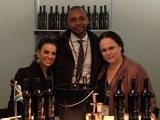 SANEC attended PLMA's annual "World of Private Label" International Trade Show
On the 20th of May 2015, The SANEC team had the privilege of attending the PLMA's (Private Labels Manufacturers Association) World Private Label in Amsterdam, the Netherlands.
The event is a well know international trade show, that brings 11,000 retail buyers and trade professionals from 115 countries together and gives them the opportunity to discover or promote new products and services, it also gives the guests the chance to create new business networks that will help them expand their brand and help it succeed worldwide. The event ran for two days and included Trade shows, an annual conference and Education programs designed for manufacturers and retailers.
The event was a huge success and thanks to the Trade and Investment Kwazulu-Natal, The Department of Trade and Industry in South Africa (Dti), The Embassy of the Republic of South Africa in the Netherlands and The Southern African Netherland Chamber of Commerce in The Hague there were also South African Products and services being showcased at the event this year.
Our SANEC team would like to congratulate all participating South African retailers who were present at this years event in Amsterdam, and wish them all the best in making their products and services familiar to the Dutch Market as well as in the Benelux region. We look forward to this exciting opportunity in assisting them in finding the proper partnerships enabling them to get their products into The Netherlands.
View the PLMA's (Private Labels Manufacturers Association) World Private Label Trade Show website