24 April 2015
SANEC B-BBEE Desk Call for Interest 2015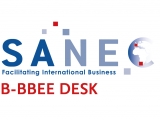 It is with great excitement that we announce the launch of the SANEC B-BBEE Desk : Your B-BBEE One-Stop-Shop
The B-BBEE Desk is set-up by SANEC and supported by the Netherlands Embassy in Pretoria to service local and international companies on B-BBEE services. SANEC has formed partnerships with specialised companies that offer innovative and practical solutions to assist companies in achieving better BEE scores in sustainable ways and with tangible results.
B-BBEE SERVICES to companies in South Africa and the Netherlands include:
Advisory (two-hour free consultation with expert
Free seminars with policy and implementation experts
Implementation Solutions
- Priority Elements - Management Control - Socio-Economic Development
Rating and Certification
Monitoring and Evaluation
Consolidated Desk Report and Impact Assessment (submitted by the Netherlands Embassy to the DTI)
Advocacy and Lobbying
SANEC GOLD MEMBERS RECEIVE 10% ON ALL SERVICES INCLUDING:
2 hour free consultation
20% off the implementation and measurement tool customisation costs
Free diagnostic (1 day) of the existing B-BBEE programmes across the scorecard
Much much more!
JOIN THE SANEC B-BBEE DESK TODAY!

Tel: +27 (0) 11 568 1234
Email: [email protected]
Web: sanecbeedesk.co.za