31 July 2015
SANEC Meets incoming Ambassador of the Kingdom of Netherlands to The Republic of Angola Mr. Willem M.C Aalmans.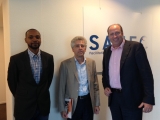 Mr Aalmans was invited by SANEC to visit our office as an introduction to the team and discuss future plans. SANEC aims to keep promoting trade, Investment and Angolan Economic Development to our Members and the Dutch Business Community and look forward to working hand in hand with the Embassy in Angola to organize a Trade Mission to Angola in the near future.
SANEC would like to offer our full support to Mr Willem M.C Aalmans in his new position as appointed Ambassador in Angola in September 2015 and wish him all the best in achieving the Embassies goals and objectives.