4 March 2015
SANEC Export Desk - Call For Interest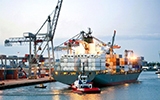 SANEC SA Export Desk - Call For Interest
It is with great excitement that we inform you about the new developments on the SANEC-SA Export/ Trade Desk.
Over the past year the SANEC-SA Export/ Trade Desk, has been sourcing new opportunities and aligning its activities with strategic partners in industry, government and academia, in order to boost South African exports into the Netherlands/ EU as well as the SADC region.
"A positive trade balance (where exports exceed imports) is an important contributor to economic growth. This is no less so in South Africa. Unfortunately, our exports are not growing sufficiently to contribute to the economic growth we so desperately need. For this reason, a huge need exists for more exporters that can take up the challenge of helping South Africa compete in global markets".
The SANEC Export/Trade Desk is launching a Call for of Interest to its members with the aim of providing tailor-made services and expertise that will support the implementation of the SANEC Export/Trade Desk strategy. SANEC TRADE ASSIST will provide services in a three tier strategy i.e.
TRADE BOOTCAMP: International trade workshops presented by industry leaders followed by networking opportunities.
TRADE LAB: Export and import Intermediary services aimed at informing and connecting members and to international trading activities such as:
Freight – Shipping
Logistics
Warehousing
Clearing
Forwarding
TRADE ACADEMY: Export and import training modules to educate companies to expand their skills in the international trading environment such as:
Export start-up Clinic
Labelling
Packaging
Credit Finance
Export start-up Clinic
Sea Freight
Perishables
TAX-VAT • Tariff and non-tariff barriers
Export documentation
Distribution channels
TRADE, a specialist research entity at the North-West University in South Africa, is helping organisations to streamline their market selection decisions and focus their export efforts. Using a scientifically sound methodology that systematically scans and screens international trade and market data, TRADE has developed the TRADE-DSM Navigator™, a tool designed to identify pre-qualified, realistic export opportunities:
per HS-6 product level (or other classification system, e.g. Standard Industrial Classification)
per individual product sector
per industry sector (e.g. agro industry)
per potential export market (e.g. the Netherlands)
per potential export region (e.g. SADC or Africa as a whole)
The Export Desk of the Southern African-Netherlands Chamber of Commerce (SANEC) has entered into a partnership with TRADE to explore viable export opportunities for SANEC's members in the SADC region and the Netherlands, which is an important gateway into the EU.
SANEC gold members (as per 1 April 2015) will qualify for discounted rates for services relating to exports and imports. SANEC would also like to present opportunities to collaborate with trade associations, export councils and chambers of commerce to facilitate international trade activities from South Africa/SADC to the Netherlands.
N.B. Please may you also indicate which type of export and import services, would be beneficial to you.
If you wish to participate in this call for interest please may you contact the SANEC Export/Trade Desk email: [email protected] or call: 011 568 1234