14 January 2015
South African Diplomats meet Dutch companies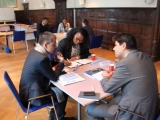 South African Diplomats meet Dutch companies
In December 2014 Clingendael organized a two week course on Economic Diplomacy, Sustainable Development and the Blue Economy. Questions such as how to become successful in South Africa and how to create a sustainable business relationship between the Netherlands and South Africa, were answered. At the seminar 10 diplomats and government officials of South Africa were present. During 4 speed date sessions the South African participants extracted collaborated on ideas with representatives of 4 Dutch companies. The main topics - business activities, sustainability and innovation were thoroughly discussed. The South African participants were impressed with the long term perspective of the companies and the sincere interest in the development of the country.
A quote of one of the participants:
"The knowledge carrousel provided a hands-on opportunity to examine sustainable trade with specific reference to the partnership between South Africa and the Netherlands and the activities by the companies. I was stunned by the collective openness of our Dutch interlocutors in doing business with South Africa, their initiatives and forward looking approach. This was very refreshing and needs to be lauded."
The participating companies were DAMEN Shipyards, DASUDA (Dutch Alliance for Sustainable Urban Development in Africa), Port of Amsterdam and SolarWorks!. The companies were selected in collaboration with SANEC because of the expertise on sustainability, innovation and experience in South Africa.
Source: Clingendael