12 January 2016
South African Minister of Tourism is Hosted by Dreamcatcher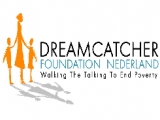 Derek Hanekom and his wife Trish, invited by Dutch Ambassador in South Africa, Marisa Gerards and her husband Peter Knoope, paid a visit Soweto to participate and enjoy a Cook-up hosted by Dreamcatcher Cook-Up Kamammas Mamule, Katrina, Dudu and Tilly. This was no ordinary visit. Derek Hanekom is the National Minister of Tourism of South Africa.
The afternoon turned into an enjoyable. vibrant and fun lunch where the minister developed a clear understanding of the Dreamcatcher Foundation, the approach and impact of the organization, the situation of the people in the townships and personal experience of what it means to go Truly Local to relax and eat with the locals.
The Dreamcatcher Foundation was founded almost 27 years ago to work with women, youth and children in 16 South African township communities to improve their quality of life through a form of social tourism – and entrepreneurship as a means to grow tourism in South Africa. It soon developed to 'GOING TRULY LOCAL', real 'life see' local engagement and encounters in contrast to typical current sight seeing tourism experiences.
The years of commitment and dedication of Dreamcatcher founder, Anthea Rossouw is paying off, as the demand for un-staged local tourism experiences is growing worldwide. So too is the deeper meaning of sustainable social-economic development in relation to poverty relief, becoming clear and appreciated.
On 30th December, UN Secretary-General Bank Ki-moon announced the 17 Important sustainable development goals to be reached over the next 15 years. 193 countries, of which the Netherlands and South Africa signed and adopted these goals.
The Dreamcatcher Foundation was founded on the principles of a number of these goals which have guided the activities of the organization since its inception. In particular Dreamcatcher South Africa have been committed to develop outcomes based programmes and projects for poverty relief, education, training and skills transfer, health and wellness, economic independence of women, combating HIV AIDS and working with the community and micro-entrepreneurs to create environmental sustainability and the development of partnerships worldwide.
South Africa urgently needs its diverse and vibrant local communities to help build their country and to develop equal partnerships-in-business. Western travelers have developed into critical consumers, asking questions and expecting to develop insight and understanding on a personal footing with local people where they live, as part of their travel experience. This is precisely the task of the Dreamcatcher Foundation: to empower the Kamamma's with specific skills to be instrumental in share her own culture and lifestyle of her community with visitors. Staying over at a Dreamcatcher Homestay, helping to prepare a Cook-Up based on local food traditions or taking a Walkabout one of the 16 Dreamcatcher townships across South Africa, facilitates meaningful communication, mutual understanding and a lot of fun, as shared by visitors enthusiastically on the Dreamcatcher websites.
Minister Hanekom stated in his expansive address at World Travel Market in London recently that: "South Africa has more to offer than the highlights traditionally sold. We know we have Table Mountain and wildlife and we have the Drakensberg and penguins, but what we have is energy, vibrancy and creativity. Lets re-package South Africa".
Dreamcatcher experiences, are an example of this repackaging where visitors can go truly local to engage and participate in this energy and creativity. Not only are experiences currently mostly offered missing the opportunity to respond to the growing international trend of truly local people engagement, it is actively excluding the local people who can thus not participate and benefit economically to contribute to the economic growth which tourism can bring to their communities.
What can be more rewarding than the mutual understanding going
GO TRULY LOCAL offers?
Minister Hanekom en his wife Trish, Ambassador Marisa Gerards and her husband Peter Knoope, found that rewarding value one afternoon when they went truly local which a Cook-Up with Kamamma or Homestay the Dreamcatcher Kamammas offer.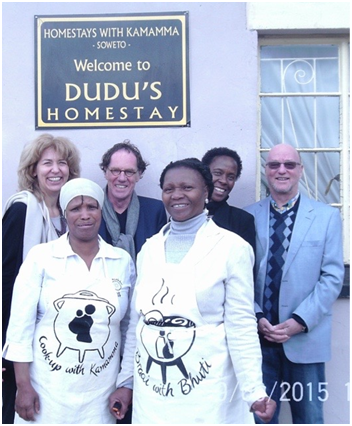 Ambassadeur Marisa Gerards, haar husband Peter Knoope, Trish and Minister Derek Hanekom with Dreamcatcher Kamamma's Katrina en Dudu.
------------------------------------------------
Note to tour operators and individual travelers: With 30 years experience, the Dreamcatcher Foundation has developed the go truly local experiences. We are happy to assist you to include one of our unforgettable experiences in South Africa. Contact our websites: www.dreamcatchersouthafrica.com or www.dreamcatcherfoundation.nl Welcome!