11 June 2014
Suitsupply opens Mansion pop-up store in Johannesburg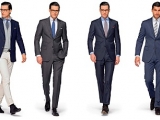 June 2014 — Set to open on June 23rd, 2014, Suitsupply, the brand ranked "number #1 Suit" in a blind test conducted by the Wall Street Journal and the New York Fashion Institute, introduces the Suitsupply Mansion concept to Johannesburg.
Suitsupply creates an entirely new market in retail men's fashion, setting themselves apart from every other boutique retailer. Their use of only the finest Italian fabrics, European styling, and incomparable in-store service- all at attainable price points—presents a revolutionary approach to men's fashion, leaving retailers asking "how do they do that?" and customers coming back for more.
After opening over 50 stores worldwide—with stores in London, Milan and New York—Suitsupply is bringing its signature mix of impeccable fits, Italian fabrics, and unbeatable prices to Johannesburg with its latest Mansion concept. The Suitsupply Mansion will be comprised of 5 rooms, each showcasing a different element of the brand's collection. A full line of winter suits, jackets, shirts, outerwear, shoes, bags and accessories, as well as select all-season essentials like breathable cotton and linen shirts, all-purpose chinos and lightweight vests are on hand to outfit customers from head to toe. Shirt prices average around R990 with suits ranging from R3990 to R9990. As with all Suitsupply shops, the new Johannesburg space will combine bold design with impeccable customer service, and include an on-site tailoring bar where customers can have their suits altered in minutes whilst enjoying a nice drink on the mansion's garden patio.
"We want you to feel at home while we advise you on style, tailor your experience, and make sure you leave with nothing less than a perfect fit." says the brand's CEO and founder, Fokke De Jong. And to assure this, Suitsupply specialists from Europe will be on-site to offer advice on size, fit, and the season's must-have looks.
For more information please contact:
Tania Habimana, General Manager Sub-Sahara Africa
Tel: +31(0)6507 43 061 / Email: [email protected]