22 December 2016
Talisman Travel Design released its new magazine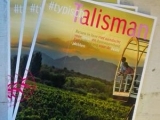 Talisman Travel Design, has recently released its new magazine. The company is a known travel specialist located in the Netherlands. The Talisman Travel experts have been around the world and know many destinations from inside and out.
Evelyn Oostveen, Quinten Jiskoot and Martine Claessens are South-African specialists. They know everything from exclusive safari lodges till small beach-houses. No place or accommodation is unknown to them.
Get inspired by the Talisman Magazine, where many experiences are being shared. Read up on fascinating travel stories from Talisman travelers and interviews with local guides. Find more information on Southern Africa as your ideal travel destination, and discover other places from Japan till Peru by ordering the magazine for free on their website.