8 April 2016
Zambia first country to create a smart farming training centre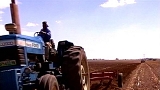 Zambia has become the first country in the world to create a smart farming training centre.

The AGCO-Zambia Agriculture Training Centre launched this week will fast-track the country's agricultural sector into the 21st century- as it moves away from its dependence on copper.

Farmers will be taught how to use high technology farming machines at the new centre - which will enable them to produce more crops.

Maxus Ng'onga is the Deputy Agriculture Minister of Zambia. He says the new centre will revolutionise not only its country's agricultural sector, but also empower women, youth and small scale farmers across Sub Saharan Africa.

The Agriculture sector employs 65 % of Sub Saharan Africa's labour force and accounts for 32 % of gross domestic product.

The sector has gained pace over the last few years but African farm yields are amongst the lowest in the world.

Smart farming or mechanisation remains a somewhat neglected element of agriculture.

Senior Vice President of AGCO Rob Smith says: "There are only 4% of African farmers that have significant mechanisation. That
means 96% of the African people, 96% of 600 million is a lot of people. It could make a significant increase in personal and family prosperity."

"The average productivity of our maize crop in the country from conventional farming is just around 1.2 tonnes per hectare. While under mechanised productivity is around 8.5 tonnes per hectare, obviously demonstrating the importance of mechanisation enhancing in both productivity and production." Ng'onga added.

Zambia says it is moving away from its dependence on copper as commodity prices continue to tumble.

The new training centre was built at a cost of 15 million dollars. AGCO says it plans to build similar centres across the continent.

Director of operations for Africa at Messey Ferguson Nuradin Osman says: "We know that Algerian government wants to do this, we know that the Egyptian government wants to replicate this. So, we are providing the role by providing the know how but the government will invest. Statistically, what we found is that the government buys tractors, they only last one year - whereas they should last seven years. Many of the products that government bought are idle, that's why we decided to do this model. "

Farmer from Kwazulu Natal Tebogo Victor says: "I am from a company that focuses on mechanisation. When you have your mechanisation within reach, you're sure to implement your plan within the time because agriculture is about time."

"We are here to make sure that when they focus on Africa we need to make sure that we use the latest technology to be efficient in whatever we do."

The summit aims to fast-track Africa's farm mechanisation by showcasing and investing in both animal traction projects and
mechanically powered mechanisation, such as in tractors, pumps and post-harvest processing equipment.