Building new partnerships at the SADC Ambassadors Lunch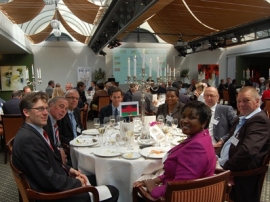 Date: 23-05-2013
Location: Kasteel de Wittenburg, Wassenaar / the Netherlands
Although it was not warm outside on 23 May 2013, SANEC enjoyed the inside warmth of the sun through the glass rooftop of Kasteel de Wittenburg in Wassenaar. The Ambassadors of the Southern African Development Community (SADC), SANEC members and SANEC associates gathered to connect, develop new partnerships and to deepen existing relations over lunch.
After a warm word of welcome by the Vice-Chair of the SADC, H.E. Dr. Brave R. Ndisale, Ambassador of the Republic of Malawi to Brussels, a beautiful Scottish salmon was served. After this Scottish starter, attendees were addressed by a Scottish speaker, Mr. Alastair Milne, Vice President Exploration Sub-Sahran Africa of Shell International. During his presentation on the Energy challenges and opportunities in Sub-Saharan Africa, he highlighted the importance of such networking events to generate new partnerships. These partnerships stimulate knowledge sharing, which is key for creating =sustainability.
When the attendees finished their main course, a presentation about Food Security was provided by Mr. Ate Oostra. As the president of the Board of the Metropolitan Food Security (MFS), he addressed that the world populations is growing and food is becoming scarce. Therefore, innovations are important to secure food for future generation. Like Mr. Milne, Mr. Oostra highlighted that partnerships are important for knowledge sharing.
During the networking drink, ThreeWines Benelux arranged a winetasting with their quality wines from South Africa. SANEC would like to thank them, the key note speakers and all attendees for making this lunch a successful business event. Like our key note speakers, we believe that these gatherings are important to enhance and expand partnerships!
Last but not least, SANEC was honoured to have present Mrs. Maria Abrantes, CEO of Angola's National Agency for Private Investment and Mrs. Ana Karina Silva, representing the Cabinet of Angola.
Links: